UPCOMING EVENTS
The Bach Society of Saint Louis hosts several special fundraising events alongside our concert season each year, with tickets available to the general public.
Stay tuned for information about our 2021-2022 upcoming events!
PAST EVENTS
---
80TH SEASON GALA: A VIRTUAL CELEBRATION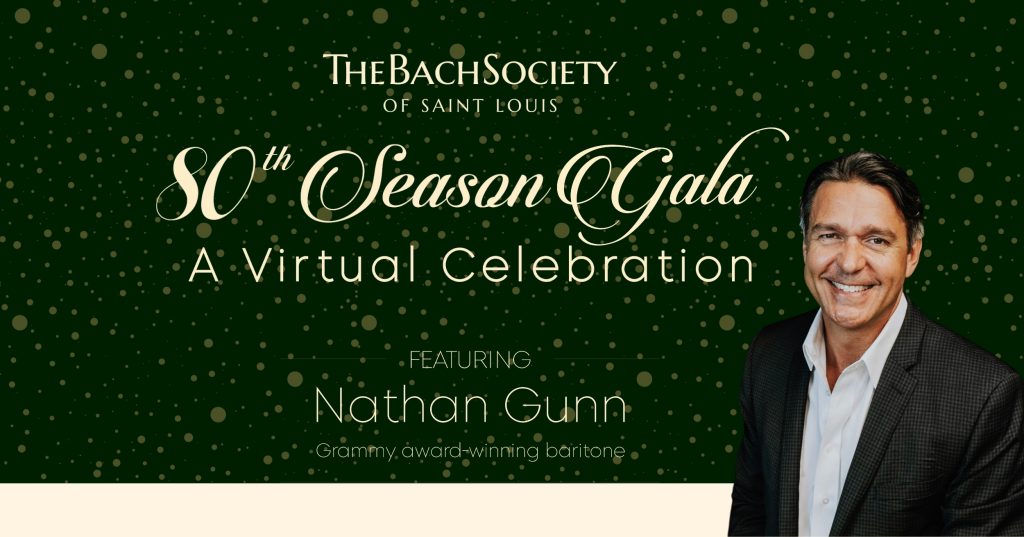 Friday, March 19, 2021, at 7 P.M. CT – 80th Season Gala Performance
Join us for a grand evening! Featuring a stunning performance by Grammy award-winning baritone Nathan Gunn, and a select group of the Bach Society Chorus. Reimagined as a virtual event, the evening will celebrate our 80th season and 35th anniversary of our Music Director and Conductor, A. Dennis Sparger. Filled with music, a delicious meal with champagne delivered to your door, and more, this grand celebration is not to be missed! All proceeds go directly to support the mission of the Bach Society.
---
VIRTUAL BACHTOBERFEST
Friday, October 16, 2020, at 7 P.M. CT | FREE VIRTUAL EVENT
Join friends new and old for a festive and engaging virtual Bachtoberfest! Hosted by BeerChoir, the evening will be filled with local StL flair that can be experienced from anywhere. Sign up to attend, find a friend, grab your favorite beer (or not) and join in for a drinking song or two!
Presented by Perennial Artisan Ales with support from Urban Chestnut Brewing Company.