Stephen Eros, Assistant Conductor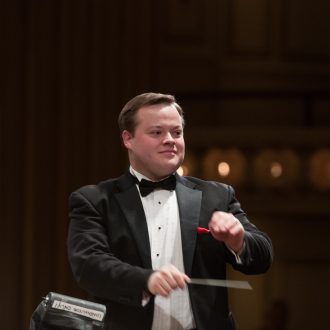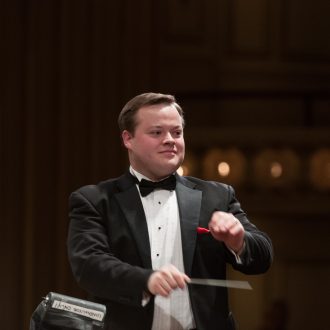 Stephen Eros graduated from Webster University with the degrees Master of Arts in Choral Conducting and Bachelor of Music in Organ Performance, and faculty bestowed honors in music. He studied conducting and choral music with Trent Patterson, organ with William Partridge, and voice with Robert Ayllón. As Assistant Conductor of the Webster University Choirs, he assisted in preparing works such as Britten's Cantata Misericordium and Rejoice in the Lamb, Orff's Carmina Burana, Schubert's Magnificat (D 486), Bach's Cantata No. 131, Duruflé's Requiem, Mozart's Regina Coeli (KV 276), and Copland's In the Beginning. 
Stephen has been Assistant Conductor of the Bach Society of St. Louis since 2013. In addition to singing with the chorus, he has conducted them in concert in works by Bach, Beethoven, Brahms, Handel, Mendelssohn, Mozart, among others. Stephen was the music director for "A Classical Cabaret" at Jazz St. Louis —part of the 2019 St. Louis Bach Festival—along side his wife, Jamie, who was the director. 
Stephen has worked in the field of sacred music for over a decade. He has served parishes in the Diocese of Belleville, Springfield (IL), and Archdiocese of St. Louis. Since 2015, he has held the position of Director of Liturgy and Music at St. Clare of Assisi Catholic Church in O'Fallon, IL. At St. Clare he is responsible for the formation and training of over 400 liturgical ministers, and conducts the parish choir, men's schola, women's schola, and two children's choirs. On the diocesan level, he has served as organist and choirmaster for pontifical liturgies at the Cathedral of St. Peter, and currently serves on the music committee of the diocesan liturgical commission. 
As a collaborative pianist, Stephen has served as music director for solo cabarets and musicals in the St. Louis area, and has worked for the Muny St. Louis as a rehearsal pianist.  He is a member of the St. Louis Chapter of the American Guild of Organists, having served as Sub Dean, Program Committee Chair, and a member of the Executive Committee. He is a proud union member of the American Federation of Musicians Local 2-197, and holds memberships with several professional organizations in the areas of liturgical and choral music.
His biggest accomplishment to date is being the husband of Jamie Eros, step-father of George (14) and Jon (12), and father of Samuel (3) and Viola (1 ½).
Stephen Mager, Composer in Residence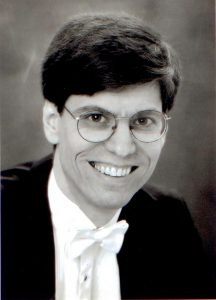 Stephen Mager was appointed composer-in-residence for the Bach Society of Saint Louis in 2004. He has written extensively for chorus and orchestra, and his works have been performed by such distinguished ensembles as the Cleveland Orchestra and Chorus; the Indianapolis Symphony Orchestra Chorus; VocalEssence, Minneapolis; and the Dallas Symphony Chorus.
His choral symphony, Sinfonia Pastorale, received its Saint Louis premiere in 1997 with the Bach Society, to critical praise. The Bach Society has commissioned many of his major choral works: an Easter choral cycle, The Lamb's High Feast (2005); I saw eternity (2006); in 2008, Missa lucis ("Mass of Light"), aptly described as "lushly lyrical" (Saint Louis Post-Dispatch); an extended, dynamic setting of the Te Deum (2012); and in 2014, Hommage à Saint-Michel, lauded by the Post Dispatch as "a highlight of the program…filled with lovely melodies and interesting effects." In 2016, his Sarabande ("Arise, shine, for thy light has come") was composed and premiered to commemorate the 75th anniversary of the Bach Society.
His opera, Dream of the Pacific, was commissioned by Opera Theatre of Saint Louis for the bicentennial of the Lewis and Clark expedition (2004), and subsequently produced by Opera Omaha (2005), Kansas City Lyric Opera (2005), and Washington National Opera (2006), the latter by the young artists program sponsored by Plácido Domingo. "Mager excels at conveying a wide variety of feelings…all in a musical language that is both lyrical and comprehensible" (Washington Post).
His carol settings have also received critical attention and are featured on two compact discs, Joy for Every Age (1998); and more recently, Let Our Gladness Have No End, (2016). "These excellent carol settings . . . exhibit a slightly different kind of charm and sophistication that owes much to their more expansive…fully integrated orchestrations" (David Vernier, Classicstoday.com). His carols are featured on a dozen or more commercial recordings by choral ensembles in the United States. Dr. Mager's music is published by Oxford University Press and MorningStar Music.
An active choral and opera conductor, he holds a Doctor of Music degree from the Jacobs School of Music, Indiana University, where he also completed his master's studies. His teachers have included Jan Harrington, Julius Herford, Thomas Binkley, Robert Shaw, Margaret Hillis, Robert Porco, Dale Warland, John Poole, and Carmen-Helena Tellèz. Dr. Mager has served as Artistic Director and Conductor of the Masterworks Chorale, Belleville, Illinois, since 2009. The ensemble performs in an annual subscription concert series, serving the southwest Illinois region.
Sandra Geary, Accompanist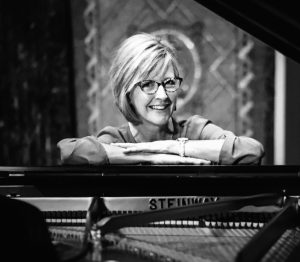 Sandra Geary is a native of County Cork, Ireland and has received piano performance diplomas from the Royal Schools of Music, Trinity College, London; the Cork School of Music, Ireland and a Bachelor of Music degree from the St. Louis Conservatory of Music. Her teachers have included John O'Conor, Joseph Kalichstein and Carole Tafoya.
On the piano faculty of Washington University, Sandra also accompanies the WU Chamber and Concert choirs.
She has been the Bach Society of Saint Louis accompanist for the past 26 years and also is the accompanist for Webster University Opera studio.
She is a vocal coach for the OTSL Artist-in-Training program and Union Avenue Opera's 'Crescendo' Young Artist program.
She has collaborated in Voice Masterclasses given by Nathan Gunn, Stanford Olsen, Kevin Short, Erie Mills, Christine Brewer, Mary Ann McCormack and Jennifer Johnson Cano.
Sandra regularly accompanies recitals,auditions and competitions in the St Louis area.