Stephen Eros, Assistant Conductor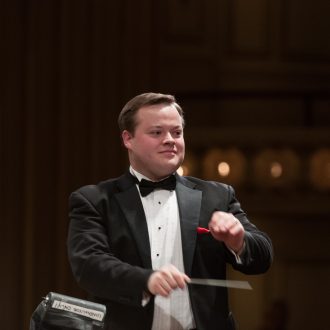 Stephen Eros graduated from Webster University with the degrees Master of Arts in Choral Conducting and Bachelor of Music in Organ Performance, and faculty bestowed honors in music. He studied conducting and choral music with Trent Patterson, organ with William Partridge, and voice with Robert Ayllón. As Assistant Conductor of the Webster University Choirs, he assisted in preparing works such as Britten's Cantata Misericordium and Rejoice in the Lamb, Orff's Carmina Burana, Schubert's Magnificat (D 486), Bach's Cantata No. 131, Duruflé's Requiem, Mozart's Regina Coeli (KV 276), and Copland's In the Beginning. 
Stephen has been Assistant Conductor of the Bach Society of St. Louis since 2013. In addition to singing with the chorus, he has conducted them in concert in works by Bach, Beethoven, Brahms, Handel, Mendelssohn, Mozart, among others. Stephen was the music director for "A Classical Cabaret" at Jazz St. Louis —part of the 2019 St. Louis Bach Festival—along side his wife, Jamie, who was the director. 
Stephen has worked in the field of sacred music for over a decade. He has served parishes in the Diocese of Belleville, Springfield (IL), and Archdiocese of St. Louis. Since 2015, he has held the position of Director of Liturgy and Music at St. Clare of Assisi Catholic Church in O'Fallon, IL. At St. Clare he is responsible for the formation and training of over 400 liturgical ministers, and conducts the parish choir, men's schola, women's schola, and two children's choirs. On the diocesan level, he has served as organist and choirmaster for pontifical liturgies at the Cathedral of St. Peter, and currently serves on the music committee of the diocesan liturgical commission. 
As a collaborative pianist, Stephen has served as music director for solo cabarets and musicals in the St. Louis area, and has worked for the Muny St. Louis as a rehearsal pianist.  He is a member of the St. Louis Chapter of the American Guild of Organists, having served as Sub Dean, Program Committee Chair, and a member of the Executive Committee. He is a proud union member of the American Federation of Musicians Local 2-197, and holds memberships with several professional organizations in the areas of liturgical and choral music.
His biggest accomplishment to date is being the husband of Jamie Eros, step-father of George and Jon, and father of Samuel and Viola.
Sandra Geary, Accompanist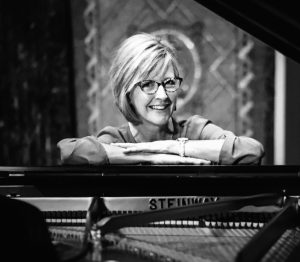 Sandra Geary is a native of County Cork, Ireland and has received piano performance diplomas from the Royal Schools of Music, Trinity College, London; the Cork School of Music, Ireland and a Bachelor of Music degree from the St. Louis Conservatory of Music. Her teachers have included John O'Conor, Joseph Kalichstein and Carole Tafoya.
On the piano faculty of Washington University, Sandra also accompanies the WU Chamber and Concert choirs.
She has been the Bach Society of Saint Louis accompanist for the past 26 years and also is the accompanist for Webster University Opera studio.
She is a vocal coach for the OTSL Artist-in-Training program and Union Avenue Opera's 'Crescendo' Young Artist program.
She has collaborated in Voice Masterclasses given by Nathan Gunn, Stanford Olsen, Kevin Short, Erie Mills, Christine Brewer, Mary Ann McCormack and Jennifer Johnson Cano.
Sandra regularly accompanies recitals,auditions and competitions in the St Louis area.