The Bach Society of Saint Louis Chorus
Widely respected for its outstanding performances, the Bach Society Chorus has been awarded the Excellence in the Arts award by the Arts & Education Council. Since 1941, audiences have come to expect musical excellence and passion from our concerts. Concerts usually include a fully professional orchestra and professional soloists who come from across the country to perform with the Chorus.
Christmas Candlelight Concert hailed as "Top 20 Live Christmas Events in North America," BBC MUSIC Magazine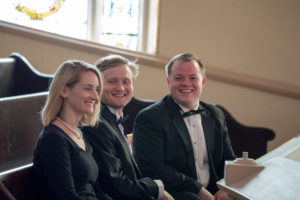 The Bach Society Chorus is an annually auditioned group of approximately 60 experienced singers committed to artistic excellence in the performance of major choral and choral-orchestral masterpieces, notably the works of Johann Sebastian Bach. The Chorus includes exceptional volunteer singers joined by a core of paid professional choral singers. The Bach Society of Saint Louis also sponsors a Young Artist scholarship program for aspiring soloists under the age of thirty-two.
What Are Current Chorus Members Saying about Singing with the Bach Society?
"I am really enjoying my first season singing with the Bach Society. It seems like everyone is such a 'family' and I have been welcomed so readily by so many. What an unexpected treat!!"
"I have thoroughly enjoyed my first two seasons singing with the Bach Society Chorus!"
"I look forward to Monday nights each and every week."
"I joined expecting to sing great music, [and] have found chorus members to be among the most delightful people I've ever met."
"Every Monday, I leave work thinking, 'I just can't make it through rehearsal tonight…I am SO tired,' but I KNOW that once I get there, the troubles of the day will melt away and the beautiful sounds around me (and the wonderfully quirky, fun, exciting personalities) make all the troubles in my mind subside."
"I am uplifted. I am rejuvenated. And I am invigorated to the point where I cannot get to sleep for a good hour after I get home. I LOVE singing with this choir."
Chorus Rehearsals
We rehearse from late August to early May on Monday evenings, 7 p.m. to 9:30 p.m. in the Great Hall at the Church of St. Michael and St. George, 6345 Wydown Boulevard, Clayton, MO 63105.