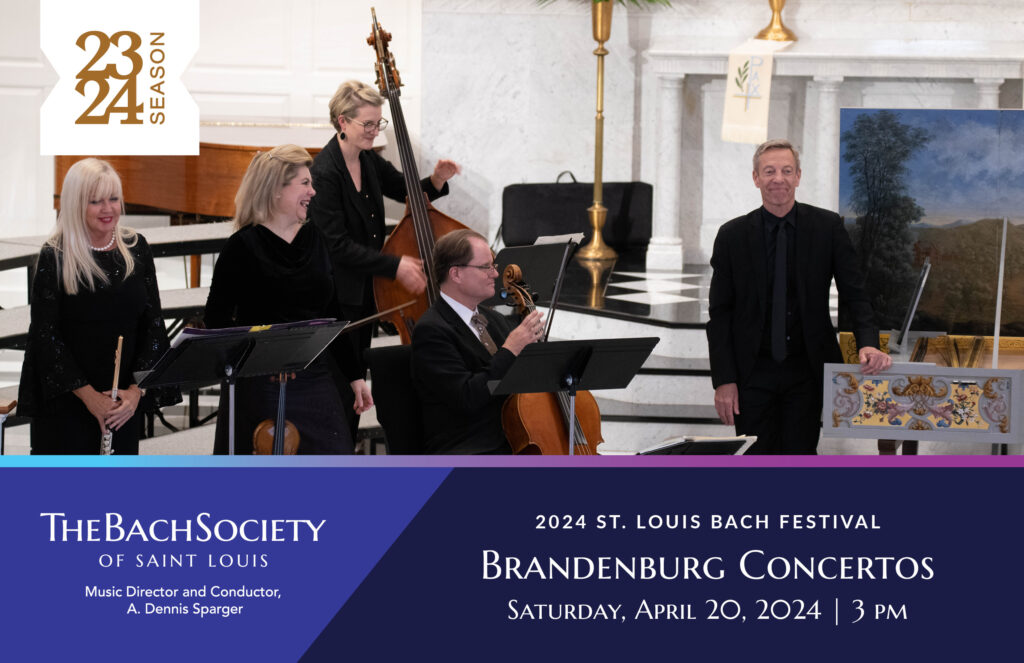 Salem United Methodist Church
Indulge your senses as The Bach Society of Saint Louis brings J.S. Bach's Brandenburg Concertos to life, each boasting its distinct personality and allure. The concert includes Brandenburg Concerto No. 1, No. 2, No. 3 and No. 5 showcasing Bach's compositional diversity and his ability to highlight various instruments.
In addition to the Brandenburg Concertos, the program also presents other notable works by Bach, such as the Concerto for harpsichord, strings, and Continuo No. 4. Concertmaster Lenora-Marya Anop will lead the Bach Society Orchestra in sharing these timeless compositions.
PRESENTED BY
Tad & Catherine Edwards
SPONSORED IN PART BY
Bill & Jane Doub
Dan & Beth Eckles
---
Ticket range: $27 – $52
Section 1:  $52 (front half of sanctuary; nearest performers)
Section 2:  $42 (rear half of sanctuary)
Section 3/Balcony:  $27 (furthest from performers; no elevator access)
Student: $10 (available at the door on the day of the performance)
---
Check out our 2024 St. Louis Bach Festival